British Columbia's 2018 budget dampens demand in Greater Vancouver's luxury real estate market, ushering in buyer's market
Greater Toronto Area's luxury home price appreciation flat after two rounds of government intervention, while luxury condos make largest price gain
Good value drives demand for luxury detached homes in the Greater Montreal Area while high inventory in luxury condos limits price appreciation to 3.9 per cent
Calgary luxury condominiums buck the trend posting only year-over-year price decline
Consumer confidence releases pent up demand in Ottawa's luxury home market as price appreciation show healthy gains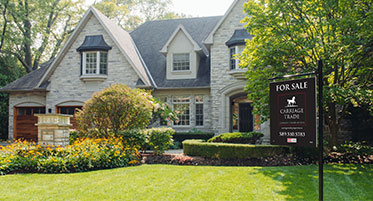 TORONTO, May 10, 2018 – Canada's spring luxury real estate market is well underway in Canada's largest cities. While sales in Greater Vancouver and the Greater Toronto Area (GTA) are significantly down in the first four months of the year, luxury home prices have remained relatively resilient, according to Royal LePage.
Overall, sales activity declined in Greater Vancouver and the GTA luxury real estate market as both sellers and buyers adjusted to federal and provincial measures affecting both domestic and foreign buyers. The introduction of the new mortgage stress test implemented by the Office of the Superintendent of Financial Institutions (OSFI) at the beginning of 2018 created market turmoil as buyers moved to the sidelines in order to gauge the impact on luxury home prices, similar to what was witnessed in the overall residential resale market. More significantly, in British Columbia, the 2018 provincial budget included policies targeting foreign and domestic buyers who do not pay tax in the province, as well as a tax increase for all homes over $3-million through increases to the property transfer and school tax. Similarly, the non-resident property tax included in Ontario's 16-Point Fair Housing Plan dampened price expectations for the GTA region.
"Home prices in Canada's luxury real estate market have remained remarkably resilient when you consider the economic headwinds that serial government interventions have created," said Phil Soper, president and CEO, Royal LePage. "The resilience of home values reflects the strong aspirations of luxury buyers to reside and work in cities that are consistently ranked among the most desirable on the planet."
During the first four months of 2018, price appreciation of a luxury condominium in Greater Vancouver and the GTA outpaced that of a luxury detached home, with median condominium prices rising by 7.0 per cent and 10.4 per cent year-over-year, respectively. For the same period, the median price of a luxury condominium in the Greater Montreal Area and Ottawa rose by 3.9 per cent and 4.0 per cent, respectively, while Calgary posted the only decline, decreasing 6.1 per cent.
The Greater Montreal Area posted the largest year-over-year price gain in the detached luxury home segment, increasing 9.1 per cent to $1,569,515 in the first four months of the year. During the same period, detached luxury homes in Ottawa (6.3%) and Greater Vancouver (5.2%) also saw prices rise, while home values in Calgary (0.6%) and the Greater Toronto Area (-0.2%) remained flat.
"Somewhat unusual in historical terms, and reflecting an important demographic shift happening across North America, appreciation in the luxury condominium market is outpacing the traditional target for large value residential property investment, the detached house," said Soper. "Baby Boomers are finally exiting their large family homes, and luxury condos, with their low maintenance lifestyles, are the favoured destination.
"Contrary to popular belief, wealthy homebuyers are price sensitive too. They didn't reach the point in their lives where they have the capacity to acquire high-value real estate without being financially astute," concluded Soper. "Luxury condominiums represent value in today's market."
Article courtesy of Royal LePage
Read Full Article Here